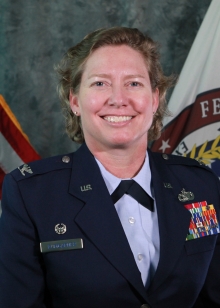 Commander
United States Air Force Special Investigations Academy
Colonel Amy Bumgarner is the Commander, United States Air Force Special Investigations Academy (USAFSIA), located on the campus of the Federal Law Enforcement Training Center in Glynco, GA. USAFSIA trains over 1,000 students annually in basic and advanced criminal and counterintelligence investigations, protective service operations, polygraph, and technical investigative services in support of the Air Force Office of Special Investigations worldwide mission. USAFSIA units are embedded with key mission partners including NSA's Interagency Training Center, Fort Washington, MD, DIA's Defense Academy for Credibility Assessment, Fort Jackson, SC, and the US Air Force Expeditionary Center, Fort Dix, NJ.
Colonel Bumgarner was born and raised in Burleson, Texas, and entered the Air Force as a Second Lieutenant in November 1995 after graduating as a Distinguished Graduate from Officer Training School.  Her first assignment was to the Air Force Pentagon Communications Agency as a communications-computer officer.  While at the Pentagon, Col Bumgarner worked in the Plans and Requirements Division on several diverse teams, providing communications support to Headquarters Air Force offices across the National Capital Region.  She cross-trained into the AFOSI career field in July 1999.
During her time in AFOSI, Colonel Bumgarner has commanded a region, several detachments, has deployed twice to Afghanistan, and in 2003 was the first-ever OSI Advisor to the 34th Training Wing where she was a key member of the Academy Response Team, working with victims of sexual assault at the US Air Force Academy.  Her work at the Academy was instrumental in developing and implementing new sexual assault responses and policies for the Department of Defense.  Her last AFOSI assignment was as Commander, 8th Field Investigations Region, headquartered at Peterson Air Force Base, Colorado, where she had oversight for all major criminal and fraud investigations and Air Force counterintelligence matters affecting Air Force Space Command, Air Force Global Strike Command and the US Air Force Academy. Col Bumgarner is married to Randy Bumgarner of Altoona, Pennsylvania.
EDUCATION:
1991 - Bachelor of Arts in Government, Southeastern Louisiana University, LA
1994 - Master of Arts in History, Southeastern Louisiana University, LA
1997 - Master of Arts in Computer Resources and Information Management, Webster University
2002 - Squadron Officer School, Maxwell AFB, AL (residence and correspondence)
2005 - Air Command and Staff College (correspondence)
2009 - Master of Arts in Stabilization and Reconstruction, Naval Postgraduate School, CA
2012 - Air War College (correspondence)
2014 - Master of Science in National Resource Strategy, Eisenhower School, National Defense University
ASSIGNMENTS:
1.  August 1995 - November 1995, Officer Trainee, Officer Training School, Maxwell AFB, AL
2.  December 1995 - June 1999, Project Manager, Air Force Pentagon Communications Agency, The Pentagon, VA
3.  July 1999 - September 1999, Student, USAF Special Investigations Academy, Andrews AFB, MD
4.  October 1999 - July 2000, Special Agent, AFOSI Detachment 201, Langley AFB, VA
5.  July 2000 - September 2001, Plans and Requirements/Operations, AFOSI Region 2, Langley AFB VA
6.  September 2001 - June 2003, Commander, AFOSI Detachment 212, Shaw AFB, SC
7.  July 2003 - July 2005, OSI Advisor to 34 TRW, 34th Training Wing, USAF Academy, CO
8.  August 2005 - June 2008, Commander, AFOSI Detachment 411, Sheppard AFB, TX
9.  July 2008 - September 2009, Student, Naval Postgraduate School, Monterey, CA
10.  December 2009 – December 2010, Chief, Coordination and Engagement, HQ ISAF-Stability, Kabul, Afghanistan
11.  April 2011 - July 2013, Vice Commander, AFOSI Region 7, Joint Base Andrews, MD
12.  August 2013 - June 2014, Student, Eisenhower School, National Defense University, Washington DC
13.  July 2014 – July 2017, Commander, AFOSI Region 8, Peterson AFB, CO
14.  July 2017 – Present, Commander, US Air Force Special Investigations Academy, Glynco, GA
AWARDS AND DECORATIONS
Legion of Merit
Bronze Star Medal
Air Force Meritorious Service Medal
Joint Commendation Medal
Air Force Commendation Medal
Army Commendation Medal
Army Achievement Medal
Air Force Combat Action Medal
Meritorious Unit Award
Air Force Outstanding Unit Award
Air Force Organizational Excellence Award
AFOSI Senior Officer Lance P. Sijan Leadership Award – 2006
AFOSI Medium Detachment of the Year – 2007
Outstanding Thesis – NPS 2009
Tiger of the Year – Eisenhower School 2014
EFFECTIVE DATES
Second Lieutenant    November 1995
First Lieutenant    November 1997
Captain        November 1999
Major            February 2006
Lieutenant Colonel    March 2010
Colonel        October 2014
(Current as of July 2017)