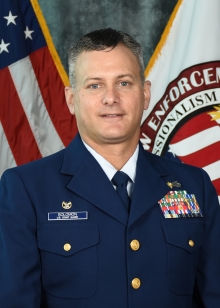 FLETA Board First Vice-chair, Commander, United States Coast Guard Maritime Law Enforcement Academy
U.S. Coast Guard
Captain Joseph H. D. Solomon is a 1992 graduate of Michigan State University, where he earned a Bachelor of Arts degree in Criminal Justice. He went on to earn a Juris Doctor from the University of Baltimore School of Law in 2000, and a Master of Science in Quality Systems Management from the National Graduate School in 2005.
A former firefighter and police officer, Captain Solomon enlisted in the Coast Guard Reserve in 1991. Subsequent to graduation from Basic Training and Port Security "A" School, he conducted search and rescue and law enforcement operations at Coast Guard Stations St Clair Shores and Belle Isle as a Port Securityman, Third Class. He received his commission as an Ensign after completing Coast Guard Reserve Officer Candidate Indoctrination in 1995.
Captain Solomon's first officer assignment was to Coast Guard Reserve Unit Toledo. Follow-on assignments include Assistant Maritime Law Enforcement Officer at Coast Guard Group Detroit, and Assistant Operations Officer at Coast Guard Activities Baltimore. After earning his law degree, Captain Solomon transferred to Maintenance and Logistic Command Atlantic's Operational Law & Command Advice Branch at Coast Guard Atlantic Area and Fifth District Headquarters. He then served at the Atlantic Area and Fifth District's Command Center, as a Search and Rescue Mission Coordinator and Supervisor of the Command Duty Officers and Homeland Security Watch. From there, Captain Solomon went on to command Maritime Safety and Security Team Seattle, the Coast Guard's first dedicated Anti-Terrorism unit. After his tour in Seattle, he served as the Pacific Area Command's Maritime Homeland Security, Maritime Law Enforcement and Deployable Specialized Forces Section Chief. He then transferred to Sector North Carolina, where he oversaw response operations as the Response Department Head. Prior to assuming Command of the Coast Guard's Maritime Law Enforcement Academy, Captain Solomon served as the Deputy Sector Commander, Coast Guard Sector Miami.
Captain Solomon's awards include four Meritorious Service Medals, two Coast Guard Commendation Medals, a Coast Guard Achievement Medal, a Navy Achievement Medal, an Army Achievement Medal, the Advanced Boat Force Operations insignia and numerous unit and team awards.
He is married to the former Miss LeeAnn Bryde, of Lansing, Michigan. They have two daughters, Dana and Kelsey.