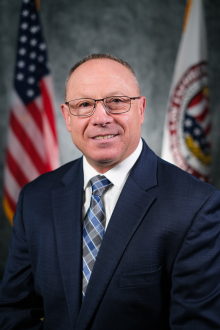 Assistant Director Training Management Operations Directorate
Federal Law Enforcement Training Centers
Mr. Charles "Chuck" Daenzer is the Assistant Director (AD) for the Training Management Operations Directorate (TMO), at the Federal Law Enforcement Training Centers (FLETC), where he provides daily executive-level leadership, oversight and strategic direction to nearly 170 federal employees in 7 divisions and offices across FLETC's four Training Delivery Points (TDP). He oversees FLETC Instructional Systems Design process, academy and program accreditation, training research and innovation and providing executive-level synchronization of current and future operations at FLETC and eFLETC.
Prior to his appointment as the AD for TMO, Mr. Daenzer served as the Deputy Assistant Director for the Mission and Readiness Support Directorate (MRSD), where he oversaw daily operations providing strategic leadership over a large portfolio of training support business lines, including facilities management, real property, assets and logistics management, procurement, and student services at each FLETC TDP.
Mr. Daenzer began his career with FLETC in December 2004 and he has also served as MRSD's Senior Policy and Project Analyst (SPPA), the SPPA for the Centralized Training Management Directorate and the Deputy Assistant Director for the Office of State, Local, Rural, Tribal and Territorial Training. In addition, Mr. Daenzer held division chief positions for the Rural Policing Institute and the Technical Operations and Counterterrorism Divisions.     
Mr. Daenzer served more than 20 years in the United States Air Force, retiring as a Senior Non-Commissioned Officer and Special Agent with the Air Force Office of Special Investigations (AFOSI).  While with AFOSI, Mr. Daenzer conducted of an wide array of criminal, counterintelligence and counterterrorism investigations.  
Mr. Daenzer holds a Bachelor of Science degree in Criminal Justice Administration from Park College and a Master of Education (Criminal Justice emphasis) from Troy State University.  Additionally, he has achieved executive education and leadership training certifications from the Federal Executive Institute and the Department of Homeland Security (DHS) Executive Leaders Program hosted at the Naval Postgraduate School. 
A Michigan native, he was born and raised in Flint, Michigan. He and his wife, Jessica, reside in St. Marys, Georgia and together they have four children and eight grandchildren.