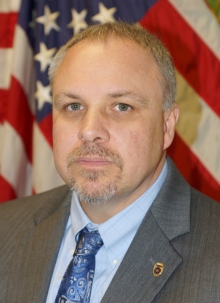 Inspector in Charge
U.S. Postal Inspection Service
Daniel B. Brubaker is the Inspector in Charge (INC) of the Philadelphia Division of the United States Postal Inspection Service.  As Inspector in Charge, Mr. Brubaker is responsible for enforcing more than 200 federal statutes relating to the protection of employees, assets, and the ensuring of public trust in the U. S. Mail.  He has functional oversight of Inspection Service operations in Eastern Pennsylvania, Southern New Jersey and the State of Delaware.  INC Brubaker provides oversight to a staff of sixteen Professional, Technical and Administrative employees, nineteen Postal Police Officers, and fifty-four Postal Inspectors.  
INC Brubaker is a proud former U. S. Marine who has been employed by the U. S. Postal Inspection Service since 1999.  Over the years he has worked a myriad of assignments and collateral duties, specializing in violent crimes, identity fraud and narcotics investigations.  INC Brubaker served as an Instructor in Firearms, Defensive Tactics and Officer Survival and held certifications as an MP-5 Sub-Machine Gun Operator and an Active Shooter Instructor through the National Tactical Officers Association (NTOA).
INC Brubaker was recruited from Savannah, GA and held the position of Postal Inspector in Greensboro, NC and Phoenix, AZ.  In 2006, he was promoted to the position of Team Leader in Las Vegas, NV where he had direct oversight of Inspection Service operations in Las Vegas, Reno, NV and Salt Lake City, UT.  In 2011, he was promoted to the position of Assistant Inspector in Charge in Atlanta, GA where he oversaw Inspection Service operations in Tennessee and Georgia.
In 2017, INC Brubaker was promoted to the position of Inspector in Charge in Philadelphia, PA. 
INC Brubaker earned a Bachelor of Arts degree from Wittenberg University in Springfield, OH where he achieved a double major in History and Political Science with a minor in Geography.  He played football and baseball for the university.
Since moving to Pennsylvania, INC Brubaker has fallen in love with the rich cultural history and tradition of the area.  He enjoys outdoor sports and has gained appreciation for local rivers and trails around his home in Phoenixville.