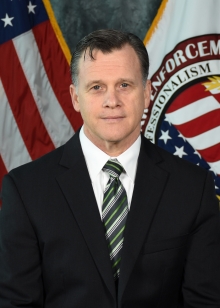 Deputy Director, Air Force Office of Special Investigations
U.S. Air Force Special Investigations Academy
Mr. Daniel Marion is the Deputy Director, Air Force Office of Special Investigations (AFOSI), U.S. Air Force Special Investigations Academy (USAFSIA), Glynco, GA.  USAFSIA trains over 1,000 students annually in basic and advanced criminal and counterintelligence investigation, protective service operations, polygraph, and technical investigative services in support of the AFOSI worldwide mission.  USAFSIA units are embedded with key mission partners including NSA's Interagency Training Center (ITC), Ft. Washington, MD; National Center for Credibility Assessment (NCCA), Ft. Jackson, SC and the US Air Force Expeditionary Center, Ft. Dix, NJ.   
Mr. Marion began his military career in 1981 as an Avionics technician before joining AFOSI in 1992.  As a special agent with AFOSI he has served in numerous positions to include criminal investigator, Anti-Terrorism Specialty Team (AST) member, detachment superintendent, Special-Agent-in-Charge and Region Criminal System Matter Expert.
Prior to his current position, Mr. Marion was the Director of Criminal Investigations and Region Criminal System Matter Expert, Langley AFB, VA.
EDUCATION:
1999 Associates in Criminal Justice, Community College of the Air Force
2002 Bachelor of Arts Degree in Criminal Justice, Bellevue University, Bellevue Nebraska
2009 Masters in Security Management, Bellevue University, Bellevue Nebraska
ASSIGNMENTS:
1.   Apr 1982 to July 1984, 33 CRS, Eglin AFB, FL.
2.   Jul 1984 to Aug 1988, PLSC, Okinawa Japan
3.   Aug 1988 to Oct 1992, Instructor, Lowery AFB, CO.
4.   Oct 1992 to Sep 1994, Special Agent, Det 112, McClellan AFB, CA
5.   Sep 1994 to Aug 1996, Special Agent, Det 522, Incirlik TU
6.   Aug 1996 to Jul 1998, Special Agent, 109-OLD, Syracuse NY
7.   Jul 1998 to Jun 2000, 820 Security Forces, Lackland AFB, TX.
8.   Jun 2000 to Oct 2003, Special Agent/Superintendent, Det 252 (AST), Lackland AFB, TX.
9.   Oct 2003 to Jun 2005, AST Program Manager, HQ AFOSI, Andrews AFB, MD
10. Jun 2005 to Jun 2007, CAG, HQ AFOSI, Andrews AFB, MD
11. Jun 2007 to Jun 2010, SAC, AFOSI Det 327, Little Rock AFB, AR
12. Jun 2010 to Apr 2011, Inspector, HQ AFOSI, Quantico, VA
13. Apr 2011 to May 2013, Internal Investigations, HQ AFOSI, Quantico, VA
14. May 2013 to Oct 2018, Director of Criminal Investigations, Langley, VA
15. Oct 2018 to Present, USAFSIA Deputy Director, FLETC, Glynco, GA
MAJOR AWARDS AND DECORATIONS:
Air Force Commendation Medal                                4 devices
Southwest Asia Service Medal
Air Force Training Ribbon
Air Force Achievement Medal
National Defense Service Medal                                1 device
Air Force Longevity Service Award                            4 devices
Air Force Good Conduct Medal                                  6 devices
Air Force Organizational Excellence Award              3 devices
AF Outstanding Unit Award                                        1 device
AF Overseas Short Tour Ribbon
AF Overseas Long Tour Ribbon
Air Meritorious Service Medal
Civilian Meritorious Service Medal                             3 devices