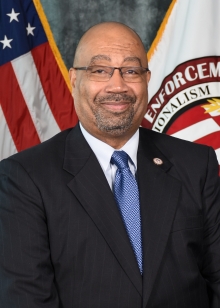 Deputy Assistant Director
NCIS Training Academy
Special Agent Darrick D. Kennedy began his career with the Naval Criminal Investigative Service (NCIS) in June 1989 at the Resident Agency, Oceana, Virginia.  In 1995, he volunteered for duty as a Special Agent Afloat aboard the USS Enterprise (CVN-65), where he was responsible for providing a full range of NCIS investigative, counterintelligence and force protection support to the Carrier Battle Group during its Mediterranean and Gulf deployment.  Special Agent Kennedy also served in various field assignments in Virginia and Guam. 
In 2002, Special Agent Kennedy served as the Staff Counterintelligence Officer and Law Enforcement advisor for Commander Seventh Fleet aboard the USS Blue Ridge (LCC-19), in Yokosuka Japan.  In this position he was responsible for coordinating all NCIS counterintelligence and force protection support to the U.S. Navy and U.S. Marine Corps units operating in Seventh Fleets area of responsibility.
In 2004, Special Agent Kennedy entered the supervisory ranks as Supervisory Special Agent (SSA) at the Hawaii Field Office.  In his duties as the SSA for Counterintelligence and Counterterrorism, he supervised agents providing tailored CI/CT support to U.S. Navy and U.S. Marine Corps interest in the Pacific Islands.  While at the Hawaii Field Office, Special Agent Kennedy deployed for a four-month assignment to Barsah, Iraq in support of the Strategic Counterintelligence Directorate (SCID).  Special Agent Kennedy supervised a joint team of NCIS, AFOSI and Army MI counterintelligence collection team. 
In 2005, Special Agent Kennedy was promoted to Assistant Special Agent in Charge (ASAC) for the newly formed Contingency Response Field Office (CRFO) in Glynco, GA.  The mission of the CRFO is to develop and sustain the capability to rapidly deploy trained and equipped personnel in support of validate high-risk missions.  During his assignment to the CRFO, Special Agent Kennedy completed two six month tours as the Resident Agent in Charge of the NCIS Resident Agency, in Western Iraq.  Special Agent Kennedy was responsible for NCIS activities in support of Mutli-National Forces - West (MNF-W) at Camps Fallujah, Al Asad, Al Taqaddum and Ramadi.
In September 2009, Special Agent Kennedy was again promoted and selected for assignment as the Senior Representative to U.S. Fleet Forces Command and Marine Forces Command and the Senior Representative in Charge of the NCIS Security Training, Assistance and Assessment Team Atlantic (STAATLANT).   In September 2012, SA Kennedy was reassigned to the Chief Staff Officer position for the Executive Assistant Director Atlantic when he assisted with the oversight of investigation in the Atlantic AOR.   In August 2013, SA Kennedy was reassigned to NCISHQ to be the functional lead for development AND implementation of the Department of Navy's new case management system, the Naval Justice Information System (NJIS).
In June 2018, SA Kennedy was assigned as the Deputy Assistant Director for the NCIS Training Academy, Federal Law Enforcement Training Academy (FLETC), GA.
Special Agent Kennedy is a graduate of Valdosta State College with a degree in Criminal Justice.  During his tenure with NCIS, he has received numerous awards and honors including the Naval Meritorious Civilian Service Award in 1997 and 2002.