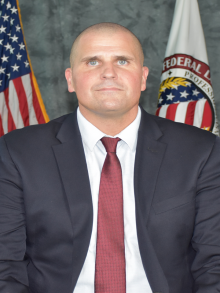 Deputy Assistant IG for Investigations
Treasury Inspector General for Tax Administration's
Edward Currie is currently the Assistant Inspector General for Investigations (AIGI) for the US Treasury Inspector General for Tax Administration's (TIGTA) Operations Support Directorate. This includes responsibilities of TIGTA's accredited training academy and the Training Team.  Ed was also previously the AIGI of the Strategic Enforcement Directorate and the Deputy AIGI of the Special Investigations and Support Directorate. 
Ed has a law enforcement career that includes over 21 years with the United States Secret Service and assignments as the Deputy Special Agent in Charge and the Assistant Special Agent in Charge for the James J. Rowley Training Center. He led in areas of special operations training, emergency medicine programs, cyber investigations, and leadership development.
Ed directed critical infrastructure protection operations and operations for the agency's protective mission during his multiple assignments with the Secret Service's Cyber Intelligence Section and Counter Assault Teams as an Assistant to the Special Agent in Charge and a Team Leader.  Ed also served the Presidential Protective Division and led foreign and domestic protective operations.
Ed began his Federal law enforcement career with the United States Secret Service in Atlantic City, NJ Resident Office as a Special Agent.  Prior to his Federal career, Ed was a police officer with the Seaside Heights, NJ, and Lakehurst, NJ, Police Departments; and at the Ocean County, NJ, Juvenile Detention Center, he was the Social Worker as the Home Detention Program Coordinator.  Ed is a graduate of the Ocean County, NJ, Police Academy.
Ed graduated from Bucknell University in Lewisburg, PA, and graduated from the Key Leadership Program for Senior Executive Service Career Development Program at American University in Washington, DC.  He has a Leadership Coaching for Organizational Performance Certification with American University; and he is a Leadership Coach for the U.S. Treasury Executive Institute.