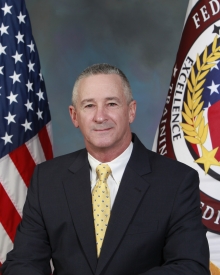 FLETA Board First Vice-chair, Assistant Director
Federal Law Enforcement Training Centers
Mr. James R. Gregorius became the 2nd Assistant Director (AD) of the Training Research and Innovation Directorate (TRID) on February 5, 2017.
Prior to joining FLETC, Mr. Gregorius served as the Special Agent in Charge (SAC) of the Drug Enforcement Administration (DEA), Office of Training. In this capacity, he directed more than 250 DEA and contract employees at DEA's training academy located in Quantico, Virginia. Through this workforce, he oversaw DEA's training mission worldwide to include entry-level training of Special Agents, Diversion Investigators, Intelligence Research Specialists, and Forensic Chemists. In addition, his responsibilities included leadership and supervisory training, international training, in-service and specialized training for all DEA employees, certification training for state and local law enforcement officers in clandestine laboratory operations, and other areas of specialization. Under the umbrella of the International Training Section, he oversaw a robust program that provided numerous annual training programs and courses in more than 80 foreign countries. Finally, he held program oversight of the International Law Enforcement Academies (ILEA) in Thailand and El Salvador and conducted counterdrug and leadership training worldwide for foreign governments and military personnel at the five ILEAs.
Some of Mr. Gregorius' key accomplishments as Special Agent in Charge include the development and execution of an annual $28 million training budget; leading development and implementation of an agency ­wide Wellness and Physical Fitness Assessment program for DEA's 14,000+ employees; Federal Law Enforcement Training Accreditation (FLETA) accreditation of the DEA Training Academy, three training programs, and DEA's Instructor Development Course; a revitalization of DEA's Basic Special Agent and Basic Intelligence Research Specialist training programs; the development and implementation of an 18-week Basic Forensic Chemist training program; the creation of an agency-wide firearms qualification and tracking system; and a new pistol and shotgun qualification course for DEA's 4,500 Special Agents.
Mr. Gregorius previously served in DEA as an Assistant Special Agent in Charge (ASAC) in the Washington Field Division, directing the operational and administrative requirements for DEA offices in Richmond, Norfolk, Roanoke, Hampton, and Bristol, Virginia. Mr. Gregorius also served as an ASAC at the DEA Office of Training, Domestic Training Section; Resident Agent in Charge of DEA's Roanoke Resident Office; Unit Chief in the Leadership Development Unit at the Office of Training; Staff Coordinator at DEA Headquaiters, Policy and Procedures Unit; Course Developer/Instructor at the Office of Training; and as a Special Agent in DEA's Miami Field Division, Fort Lauderdale District Office, where he was also a Firearms Instructor.
Mr. Gregorius began his law enforcement career in 1981 as a Police Officer with the Montgomery County, Maryland Police Department and then joined the National Security Agency in 1984 where he served as a Special Agent and Polygraph Examiner prior to joining DEA in 1987. He received a Bachelor of Arts in Criminal Justice from the University of Maryland in 1981 and a Master of Science in Criminal Justice Administration from Florida International University in 1992.