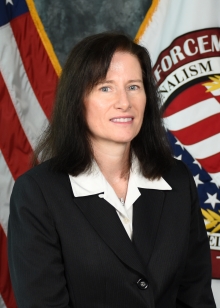 Inspector in Charge, Career Development Unit
U.S. Postal Inspection Service
Inspector McDaniel has over 25 years of law enforcement experience, 20 years of which have been with the Postal Inspection Service.  She began her law enforcement career in 1993 at the York County Sheriff's Office in Yorktown, Virginia.  In September 1999, Inspector McDaniel began her federal law enforcement career as a U.S. Postal Inspector in the Miami Division.  In October 2006, she was promoted to the position of Instructor, Career Development Division, where she taught Defensive Tactics and Officer Survival courses for the Basic Inspector Training (BIT) and Postal Police Officer Basic Training (PPOBT) programs.  She has served as a Subject Matter Expert to revise and create numerous training programs.  
In March 2012, she was promoted to the position of Assistant Inspector in Charge (AIC), Career Development Unit.  In this capacity she had oversight of the Basic Inspector Training and Postal Police Officer Basic Training Program, the polygraph unit and the assessment center for postal inspector applicants.  Since 2006, Inspector McDaniel has graduated over 60 basic training programs sending over 1,500 Postal Inspectors and Postal Police Officers into our Postal workforce. 
In September 2019, she was appointed to the executive ranks as the Inspector in Charge of the Career Development Unit.  In that capacity she has executive oversight of the USPIS National Training Academy in Potomac, MD and the Inspection Service facilities in New Castle, DE.
Inspector McDaniel was awarded a Bachelor's degree (Government Administration/Criminal Justice) from Christopher Newport University.