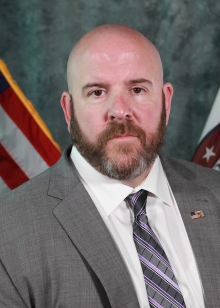 Assistant Director Human Resources and Professional Development
Bureau of Alcohol, Tobacco, Firearms and Explosives (ATF)
Ken Croke was appointed as the Assistant Director of Human Resources and Professional Development, within the Bureau of Alcohol, Tobacco, Firearms and Explosives in March 2018, where he is responsible for the strategic management of the Bureau's workforce through training, recruitment, selection, development, and evaluation programs. In addition to these duties, Mr. Croke oversees the ATF National Academy responsible for basic training for new agents and investigators as well as all advanced training offered by the Bureau.
ATF is a key law enforcement agency within the U. S. Department of Justice that protects our communities from violent criminals, criminal organizations, the illegal use and trafficking of firearms, the illegal use and storage of explosives, acts of arson and bombings, acts of terrorism, and the illegal diversion of alcohol and tobacco products. The men and women of ATF perform the dual responsibilities of enforcing Federal criminal laws and regulating the firearms and explosives industries to protect against crime, violence and other threats to public safety.
Mr. Croke began his career as an ATF Special Agent in 1990 in the Los Angeles Field Division. As a Special Agent in Los Angeles, he worked on criminal cases focusing on violent crime, firearms trafficking and gang cases both as an investigator and long term undercover agent. In 1997, he moved to ATF Headquarters in Washington, D.C., where he was a project officer. He was promoted there in 1998 to Chief of the International Programs Branch. Mr. Croke then transferred to the Boston Field Division in 2000 where he was a Resident Agent in Charge and Assistant Special Agent in Charge. In September 2015, Mr. Croke was selected to serve as the Special Agent in Charge of Denver Field Division where he oversaw all ATF operations and programs in Colorado, Utah, Wyoming and Montana. In 2016, Mr. Croke was promoted to Deputy Assistant Director (DAD) of the Office of Field Operations – East Region. As DAD, he was responsible for overseeing all law enforcement operations in 10 ATF Field Divisions along the U.S. Eastern seaboard and Caribbean.
Mr. Croke has extensive experience in gang enforcement and long-term undercover operations, frequently speaking about his experience to law enforcement audiences across the country.
Mr. Croke holds a Bachelor's Degree in Accounting from the University of Massachusetts and is a member of the International Association Chiefs of Police, Police Executive Research Forum, International Outlaw Motorcycle Gang Investigator's Association and California Gang Investigator's Association.