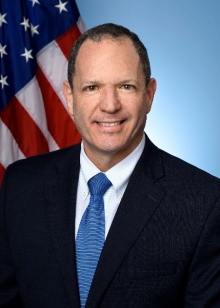 Section Chief
FBI Training Division
Mr. Quesada was born in Tallahassee, Florida.  He received a Bachelor's Degree in Liberal Studies from Florida International University.  Prior to working for the FBI, Mr. Quesada was a police officer from 1987 to 1995, employed by the City of Miami Police Department in Miami, Florida.
Mr. Quesada entered on duty as a Special Agent (SA) of the FBI in 1995. SA Quesada was assigned to the Miami Division, where he worked Violent Crimes focusing on bank robbery, extortion, and kidnapping violations.  In Miami, and later in the San Juan Division, SA Quesada was a member of the division's SWAT team.               
In 1998, SA Quesada accepted a voluntary rotational transfer to the San Juan Division where he worked Violent Crimes and Drug investigations as a field agent.  In 2001, SA Quesada transferred back to the Miami Division where he worked Drug investigations.  In 2003, SA Quesada was promoted to Supervisory Special Agent (SSA) of the Counter Terrorism Division/Terrorist Screening Center (TSC).  In 2005, SSA reported to the FBI Academy as a Defensive Tactics Instructor. In 2007, SSA Quesada reported to the Miami Division as the supervisor of squad C-13, Violent Gang HIDTA Task Force.  During his tenure in Miami, SSA was named A/ASAC of the Criminal Branch, subsequent to the promotion of the incumbent ASAC.             
From January 2010 through January 2012, SSA Quesada was assigned as the Assistant Legal Attaché Buenos Aires, Argentina, where he was responsible for promoting the interests of the FBI in Argentina, Uruguay, and Paraguay.  In January 2012, ALAT Quesada was promoted to Unit Chief, Criminal Investigative Division, Latin American/Southwest Border Threat Section, focusing on the FBI's counter narcotics efforts in Latin America and the Southwest Border of the US.   
In 2014, UC Quesada reported as the Legal Attaché Sarajevo, he was responsible for promoting the interests of the FBI in Bosnia, Serbia, Montenegro, and Kosovo. In 2015 Mr. Quesada was promoted to Assistant Special Agent in Charge for the Jackson Division overseeing the FBI's Criminal program in Mississippi. In 2017, ASAC Quesada was promoted to Assistant Section Chief / Instruction Section at the Training Division located in Quantico, Virginia. In 2018, Director Wray appointed Mr. Quesada to Section Chief Training Services Section at the FBI's Training Division.