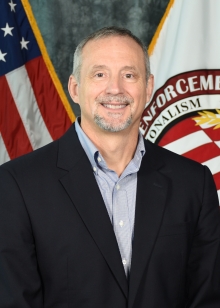 Director of the Center for Law and Human Behavior
University of Texas at El Paso
Dr. Smith is the Director of the Center for Law and Human Behavior (CLHB) and Professor of Criminal Justice at the University of Texas at El Paso.  As director of the CLHB, Dr. Smith provides strategic leadership and managerial oversight of the Center, which is dedicated to the pursuit of extramural research in the social and behavioral sciences.  As a faculty member in Criminal Justice, Dr. Smith teaches courses on law and policing and maintains an active research agenda.  
Dr. Smith previously served as Vice Provost and Dean of Extended University and as director of the DHS-supported National Center for Border Security and Immigration at UTEP.  Before his appointment at UTEP, Dr. Smith served as Dean of the College of Liberal Arts and Social Sciences and Vice Provost at Georgia Southern University where he oversaw a college of more than 250 faculty members, almost 5,000 students, and an annual budget of $23 million.  Dr. Smith also chaired the Department of Criminology and Criminal Justice at the University of South Carolina where he and his colleagues established a Ph.D. program in the discipline.
Dr. Smith is a criminologist and a former municipal and county police officer.  He has served as a principal investigator on more than $4.5 million in extramural grants and research contracts over his 20 year career as a police scholar and criminal justice researcher. With funding from the National Institute of Justice, he led the most comprehensive investigation to date on the use of force by police and injuries to officers and citizens.  He is a nationally-recognized expert on racial profiling and led or contributed to large-scale traffic stop data analysis efforts in San Francisco, Los Angeles, Miami-Dade County, Florida, Richmond, Virginia, and with state highway patrol agencies in Washington and Arizona.  He currently serves as a senior research lead to the U.S. Department of Justice COPS Office-led police collaborative reform initiative.  He has also served as a statistical and methodological consultant to the Special Litigation Section of the USDOJ and pioneered methodologies to help inform courts, communities and law enforcement agencies about disparities in police stop practices.  He has written extensively on these and other critical issues at the intersection of law, public policy, and policing.  His most recent publications have appeared in Justice Quarterly, Criminology & Public Policy, and Policing: An International Journal of Police Strategies & Management.
EDUCATION
Ph.D., School of Justice Studies, Arizona State University, May 1996.
J.D., University of South Carolina School of Law, May 1993.
B.S., Administration of Justice, Virginia Commonwealth University, August 1987.