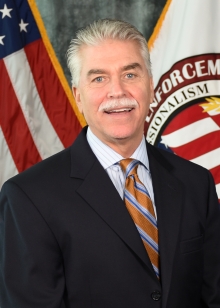 Assistant Director
Federal Reserve Board
Mr. Trotta was selected as Manager of the Protection Section of Bank Operations and Payment Systems at the Federal Reserve Board on September 12, 2011.
He served 30 years with the United States Secret Service in numerous assignments. He served as a criminal investigator in many field offices, as a training instructor at the Secret Service training academy, and as an Inspector.
Mr. Trotta has held many different supervisory positions including Special Agent in Charge of the Presidential Protective Division, Assistant Director for the Office of Professional Responsibility, and the Assistant Director for the Office of Protective Operations.
He is a graduate of Iona College in New Rochelle, New York, and a graduate of George Washington University's senior executive management program and the Johns Hopkins mentoring program.