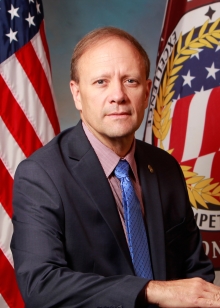 Director
Diplomatic Security Training Center
Robert W. Weitzel is a Supervisory Special Agent (SSA) with the Diplomatic Security Service (DSS) and a member of the Senior Foreign Service.  He is currently serving as the Director of the Diplomatic Security Training Center (DSTC) in Dunn Loring, Virginia with responsibility for State Department and DS training programs at the DSTC and other training facilities in the continental United States as well as overseas locations. 
 He arrived at the DS Training Center on October 3, 2016 and assumed responsibility for security and law enforcement training programs.  Prior to arrival at the DSTC, SSA Weitzel served as the Senior Regional Security Officer for the U.S. Mission to Brazil.  DS personnel in Brazil are responsible for implementing the full range of traditional DS security programs designed to protect people, facilities, and proprietary information.  His office played a major role in the protection of U.S. equities during the 2014 World Cup and were a critical component of the U.S. effort to secure the 2016 Summer Olympics in Rio de Janeiro.  In his capacity as SRSO, Mr. Weitzel managed law enforcement assistance monies made available through the Antiterrorism Assistance program and the Bureau of International Narcotics and Law Enforcement.  
Mr. Weitzel has also served as the Regional Security Officer at U.S. Embassies in Freetown, Sierra Leone; Kathmandu, Nepal, and Bucharest, Romania.  His other overseas assignments include Senior Deputy Regional Security Officer at the U.S. Embassy in Kabul, Afghanistan; and a temporary duty as Assistant Regional Security Officer at the U.S. Embassy in Tunis, Tunisia.
Mr. Weitzel has held a variety of domestic positions, including executive assistant to the Assistant Secretary of State for Diplomatic Security, Division Chief for Security and Law Enforcement Training, Resident Agent at the St Louis Resident Office, Branch Chief for Overseas Training, Section Chief in the Office of Counterintelligence, Section Chief for Protection Training, and Special Agent at the Washington Field Office.
Prior to joining DS as a Special Agent in 1986, Mr. Weitzel was employed as a Police Officer at the Atlanta Police Department in Atlanta, Georgia from 1983 - 1986.
Mr. Weitzel received a Bachelor of Science in Criminal Justice from Auburn University in Auburn, Alabama and also attended the Air Command and Staff College (as a DS Agent) at Maxwell Air Force Base in Montgomery, Alabama in 1995.