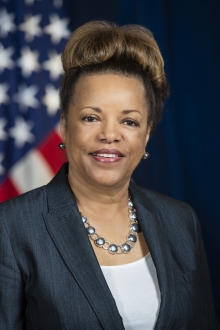 Acting Assistant Director
Immigration and Customs Enforcement
Sandra L. Walker is the Deputy Assistant Director of the Immigration and Customs Enforcement Leadership Development Center in (ICE) located in Dallas, TX.  In her current position she is responsible for the daily operations of the Center. Before she became the LDC Deputy Assistant Director, Ms. Walker served as the Unit Chief of Management and Training Operations.  Ms. Walker has been with the Center since 1996 and during her tenure she has held various leadership positions including the following: Supervisory Training Instructor; Deputy Director; and Supervisory Instructional Specialist. 
Ms. Walker's professional experience includes many aspects of training and development, human resource management and employee relations. She has managed and directed a full range of programs and administrative operations activities. Ms. Walker led and supervised numerous major leadership development projects in support of the organization's strategic direction for supervisory and managerial training.  She was named Acting Director of the Office of Leadership and Career Development in September 2018.
Ms. Walker began her federal career in 1985 with the Federal Deposit Insurance Corporation as a Training Administrator in the Oklahoma City Field Office where she was responsible for training operations.   Ms. Walker attended Southeastern Oklahoma State University and Southern Nazarene University in Oklahoma.