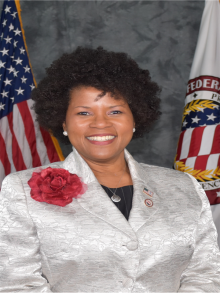 Assistant Director, Office of Leadership and Career Development
U.S. Immigration and Customs Enforcement
Tracy M. Siler, a member of the Senior Executive Service, is the Assistant Director (AD), Office of Leadership and Career Development (OLCD) for U.S. Immigration and Customs Enforcement (ICE).  In this position, Ms. Siler manages the design, operation and evaluation of ICE training and leadership and professional development curriculum and programs.  She serves alongside a dedicated team committed to enhance the knowledge, skills and abilities of all employees by preparing them to perform their duties at the highest level through quality training and professional development opportunities.
Ms. Siler joined ICE in 2013 as the Chief Ethics Officer within the Office of the Principal Legal Advisor.  She held this position until being called to active duty in 2017 to serve as the Chief, Air Reserve Component Training Division at the Air Force Judge Advocate General's School, Maxwell Air Force Base, Montgomery, Alabama.  In this position, Ms. Siler developed and executed new and recurring professional legal training courses and programs for the nearly 1,400 Air Force Reserve Component attorneys and paralegals. She oversaw diverse areas of training and implementation of professional development programs designed to meet the organization's strategic vision, mission, and goals.
Ms. Siler's over 26 years of federal service began as an ensign in the United States Navy Judge Advocate General's Corps.  Following her service with the Navy JAG Corps, she served as a civilian attorney with United States Navy Office of the General Counsel in several positions to include Associate Counsel (Civilian Personnel and Ethics), Senior Trial Counsel and Harvey J. Wilcox Fellow.  In 1999, following her active duty service, Ms. Siler transferred to the United States Air Force Judge Advocate General's Corps Reserve (AFJAGCR).  She continues to serve in the AFJAGCR and holds the rank of colonel.   
Ms. Siler holds a Juris Doctor, from the College of William & Mary, Williamsburg, Virginia and a Bachelor of Science (Psychology) from James Madison University, Harrisonburg, Virginia.   She is licensed to practice law in the Commonwealth of Pennsylvania and the State of North Carolina.
U.S. Immigration and Customs Enforcement (ICE) is the largest investigative arm of the Department of Homeland Security. ICE is comprised of three integrated divisions that form a 21st century law enforcement agency with broad responsibilities for a number of key homeland security priorities. For more information, visit: www.ICE.gov.