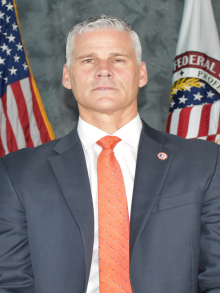 Deputy Assistant Director
Bureau of Alcohol, Tobacco, Firearms, and Explosives
Vince Pallozzi is the Special Agent in Charge of the Charlotte Field Division. Previously, he served as the Assistant Special Agent in Charge of the Dallas Field Division and as the Executive Assistant to the Assistant Director of Field Operations at ATF Headquarters in Washington, D.C.
Mr. Pallozzi has more than 160 special agents, industry operations investigators, intelligence research specialists, task force officers and support staff under his administration in the Charlotte Field Division. Under his leadership, Mr. Pallozzi will ensure personnel continue to successfully disrupt and dismantle some of the most violent criminal groups and gangs, illicit firearms trafficking networks, and expand partnerships with other federal, state and local law enforcement agencies.
Mr. Pallozzi began his law enforcement career as a Police Officer with the Clayton County Police Department, in Clayton County, Georgia, in April 1995. In February 1997, he started his Federal law enforcement career as a Special Agent with the U.S. Department of Health and Human Services, Office of Inspector General, in Atlanta, GA. Mr. Pallozzi joined ATF in 1999 where he served as a Special Agent in the Anchorage, Alaska, and Charleston, West Virginia, Field Offices. In 2012, he was selected as the Resident Agent in Charge of the Boise, Idaho Field Office, a position he held until November 2014 when he was named the ATF Explosives Liaison to the Department of Defense, Joint Improvised Explosives Device Defeat Organization, in Reston, Virginia.
A native of Bucks County, PA, Mr. Pallozzi received a Bachelor of Science degree (Summa Cum Laude) in Criminal Justice/Political Science from West Chester University, West Chester, PA. He also completed the International Association of Chiefs of Police, Leaders in Police Organizations Course.