For Immediate Release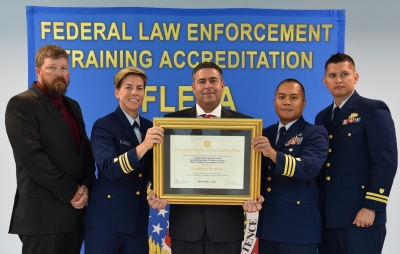 FLETA Board Grants Initial Accreditation to the USCG
Special Missions Training Center Basic Tactical Operations Course 
The Federal Law Enforcement Training Accreditation (FLETA) Board is pleased to announce it granted initial accreditation status U.S. Coast Guard Special Missions Training Center (SMTC)
Basic Tactical Operations Course (BTOC) at the November 1-3, 2016 meeting in Glynco, GA.
The BTOC instructs USCG Maritime Safety and Security Team (MSST), Tactical Law Enforcement Team (TACLET), and Maritime Security Response Team (MSRT) personnel in advanced interdiction and counterterrorism skills such as advanced combat marksmanship, close qualifiers combat, and breaching.
The course consists of classroom instruction, small aims range training, and shoot house evolutions composed of advanced practical exercises (drills) at the small group level (six  and four man group) provided in an intensive eight week resident course.
The FLETA Board is the accrediting body for all federal law enforcement training and support programs. To achieve accreditation, agencies submit to an independent review of their academy and/or program to ensure compliance with the FLETA Standards and Procedures in the areas of Administration, Training Staff, Training Development, Training Delivery, and Distance Learning. Accreditation is a cyclical process occurring every five years. Each year, agencies must submit annual reports in preparation for reaccreditation, which is a new and independent review of the academy/program.