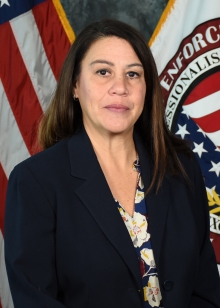 Assistant Director, Training Management Operations Directorate
Federal Law Enforcement Training Centers
Ariana M. Roddini is currently serving as the Acting Assistant Director for the Federal Law Enforcement Training Centers' (FLETC) Training Management Operations Directorate (TMO). She provides oversight and strategic direction to ten training divisions.
Prior to becoming the Acting Assistant Director for TMO, Roddini served in dual roles as the Acting Protocol and Communications Office Chief, where she oversaw all internal, external and virtual communications with FLETC, and as the Deputy Assistant Director for the Core Training Operations Directorate where she provided strategic and tactical direction for the Firearms Division, the Driver and Marine Division, the Enforcement Operations Division, and the Physical Techniques Division.
Roddini previously worked in the Office of Domestic and International Training in the Regional and International Training Directorate. In this capacity, Roddini was responsible for FLETC's international activities, including those at the International Law Enforcement Academies, and FLETC's training programs for state, local and tribal law enforcement agencies.
Roddini began her law enforcement career as a fraud investigator for New York City Department of Health and Human Services in 1994, where she was responsible for the investigation of fraud, waste and abuse in the welfare system. In 1996, she joined the United States Secret Service (USSS) as a Special Agent. During her tenure with the USSS, she was assigned to the Office of Investigations, the Office of Training and the Office of Protective Research. Ms. Roddini has served as a member of the New York City Police Department Asian Organized Crime Task Force and the Joint Terrorism Task Force. As a criminal investigator, she has conducted complex investigations related to counterfeit currency, access device fraud, bank fraud, computer fraud and threats against the President. She has also conducted protection related advances and served as a logistical or site coordinator for major events to include the United Nations General Assembly, Millennium Summit.
In 2006, Roddini transferred to the FLETC, Glynco, GA as a Senior Instructor. She has performed instructional duties in the Enforcement Operations Division and the Investigative Operations Division. In 2007, Roddini was promoted into a leadership position and has served in this capacity in various divisions or directorates throughout the organization.
Roddini is a graduate of the Senior Executive Service Candidacy Development Program and has been executive certified by the Office of Personnel Management.
Roddini's formal education includes a master's degree in educational leadership and a bachelor's degree in criminal justice.