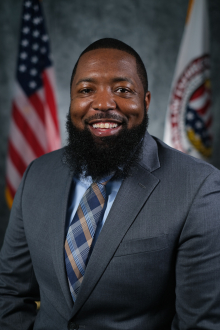 Manager, Reserve Banks Operations and Payment Systems
Federal Reserve Board
Bennie Henderson joined the Federal Reserve Board in June 2016.  He serves as the protection manger in the Division of Reserve Bank Operations and Payment Systems.  He is the liaison to the Federal Reserve Banks. Bennie is also the FRS representative to the International Central Banks Heads of Security.
Bennie was previously employed by the Bowie Police Department, in Bowie, Maryland, where he served 15 years. He retired as the Sergeant in charge of the Special Operations Division. He was responsible for managing the department's community services, traffic, and investigations unit.
He has been the recipient of numerous awards for superior performance throughout his career including the 2015 distinguish Service Award for services to the citizens of Maryland and the 2019 RBOPS and 2020 Management Divisions Director Award for Excellence.
A native of Philadelphia, Pennsylvania, Bennie holds an M.S. in organizational leadership and a B.S. in management from Johns Hopkins University.