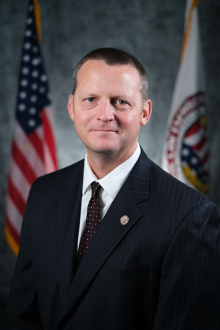 Program Manager
FLETA Office of Accreditation
In December 2018, J.J. Hensley joined the Office of Accreditation as a Program Manager. Prior to joining the FLETA team, Mr. Hensley served as the Accreditation Manager for the U.S. Marshals Service where he coordinated accreditation activities for the agency's basic program and academy.
Mr. Hensley began his career in public service in 1997 as a police officer with the Chesterfield County (Virginia) Police Department. Throughout his tenure with the department, he performed the duties of a patrol officer and got his introduction to investigative work.
In January 2000, Mr. Hensley joined the U.S. Secret Service as a Special Agent and was assigned to the Richmond Field Office where he conducted protective assignments as well as investigative work encompassing a variety of economic crimes. During his tenure in the Richmond Field Office, Mr. Hensley received a U.S. Attorney's award for his performance.
In 2002, Mr. Hensley transferred to the Washington Field Office where he continued working protective assignments and conducted numerous protective intelligence cases. Mr. Hensley also served as a team leader over the office's Recruitment and Personnel Squad which interviewed and conducted polygraph examinations on applicants.
In 2004, he began working at Secret Service Headquarters for the agency's Intelligence Division where Mr. Hensley collected information regarding potential threats to the agency's protectees and provided analyses regarding the data. Additionally, Mr. Hensley conducted protective advance work regarding intelligence matters.
Mr. Hensley moved to the training field in 2006 by taking the position as an instructor for background investigators for OPM at their facility in Western Pennsylvania. While with OPM, Mr. Hensley transitioned to a supervisory position and took on the responsibilities of an Accreditation Manager for what would eventually become the National Background Investigations Bureau (NBIB). He would remain at NBIB until transferring to the U.S. Marshals Service in 2017.
Mr. Hensley holds a Bachelor of Science in Administration of Justice from Penn State University and a Master of Science in Criminal Justice Administration from Columbia Southern University.