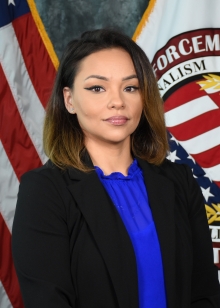 Staff Assistant
FLETA Office of Accreditation
Mrs. Johnson joined the Office of Accreditation as a Staff Assistant in November of 2017. Prior to this selection, Mrs. Johnson served as an HR Generalist, Training Specialist and Volunteer/Intern Coordinator at Gateway Community Service Board (CSB). As a Training Specialist at Gateway CSB, Mrs. Johnson was solely responsible for scheduling, tracking, and maintaining training for 550 employees, spanning over eight southeast GA counties, ensuring compliance with The Department of Behavioral Health and Developmental Disabilities (DBHDD) policies. 
From 2012-2016, Mrs. Johnson also served as both the Training and Special Project Coordinator at Morningstar Children and Family Services. Mrs. Johnson helped raise over $30,000 dollars in donations from sponsors and local businesses. Prior to her employment in the non-profit industry, Mrs. Johnson was a Ticketing Agent for Delta Airlines from 2008-2012.
Mrs. Johnson is a veteran of the United States Navy and served from 2001-2007. She served as an Aviation Administrationman and Database Analyst, supporting combat flight operations aboard the USS Enterprise (CVN-65) during both Operation Iraqi Freedom and Operation Enduring Freedom.
Mrs. Johnson holds a Bachelors of Science in Psychology with a concentration in Human Services from the College of Coastal Georgia.