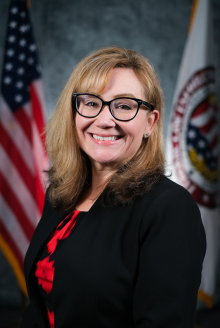 Program Manager
FLETA Office of Accreditation
Mrs. Kasper joined the Office of Accreditation as a Program Manager in October 2016. Prior to joining the FLETA team, she served as a Program Analyst for Accreditation in the Federal Law Enforcement Training Centers' (FLETC) Office of Inspection and Compliance from June 2012 to October 2016. As the Program Analyst for FLETC Accreditation, Mrs. Kasper supported the accreditation process for FLETC training programs and the Academy. In March 2009, Mrs. Kasper joined the staff of FLETC as a Training Research Analyst for the Evaluation and Analysis Branch (EAB).
From 2010 to 2016, Mrs. Kasper conducted numerous FLETA assessments as an assessor and team leader, and from November 2014 to October 2016, she served as the Chair of the Federal Law Enforcement Accreditation Coalition (FLEAC).
Mrs. Kasper began her federal career in 2006 as a Health Systems Specialist for the U.S. Naval Hospital in Rota, Spain. She was in charge of the credentialing and privileging process for all health care providers on staff as well as ensuring compliance with the Joint Commission Accreditation standards. While in Rota, she also served as the Red Cross Chairperson in charge of all hospital volunteers.
Prior to entering federal service, Mrs. Kasper taught multiple subjects at the middle and high school level in San Antonio, Texas.
Mrs. Kasper holds a Bachelor of Science in Nutrition, with a minor in Business Administration from Texas Woman's University, a Master of Arts in Education from the University of Texas at San Antonio, and a Master of Human Relations from the University of Oklahoma. She also holds a Certificate in Online Teaching from Valdosta State University. Mrs. Kasper is currently pursuing a Doctorate of Public Administration (DPA) from Valdosta State University.