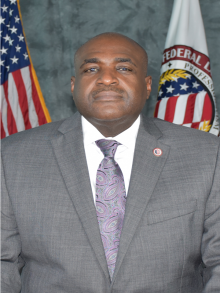 Executive Director
Illinois Law Enforcement Training and Standards Board
Keith Calloway currently serves as the Executive Director of the Illinois Law Enforcement Training and Standards Board.  In this role he serves as the principal policy making and administering policy official for Law Enforcement operations statewide. This oversite role includes law enforcement agencies, law enforcement organizations, offsite Board programs, basic law enforcement and correctional academies.  Keith also serves as spokesperson on behalf of the Board throughout the State of Illinois at meetings, conferences, before the General Assembly, and law enforcement agencies.  He also serves as a liaison to the training academies, entities and the Board, as well as travels to agencies and academies statewide to monitor compliance with Board policies and procedures in conjunction with state and federal laws. 
Before his tenure at the training board, Keith served at the Chicago Police Department, retiring as the Chief of the Bureau of Internal Affairs after serving the agency for 32-years.  During his time at CPD he held key leadership positions as the Deputy Chief/Director of Training of The Chicago Police Department's Training Division, Deputy Chief of the Organized Crime Bureau and Commander of the Englewood - 7th Police District.  He also held command positions within the Patrol and Detective Bureaus.  
Keith is a lifelong resident of the City of Chicago, having completed his undergraduate studies at Northern Illinois University, and Chicago State University.  He also earned a Master of Public Administration Degree from the Illinois Institute of Technology, and is a graduate of the Northwestern University's School of Police Staff and Command as well as the Police Executive Research Forum (PERF) Senior Management Institute for Police.