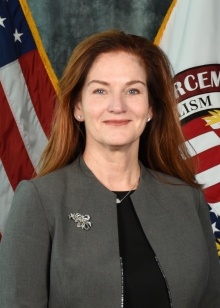 Senior VP, Threat Violence Risk Management & Investigations
Jensen Hughes
Debra Kirby has been a champion for change throughout the majority of her career in the law enforcement and public safety field. She is a Senior  Vice President for Hillard Heintze, and leads the collaborative reform efforts with law enforcement agencies, in addition to other law enforcement consulting engagements.
As Deputy Chief Inspector with the Garda Siochana Inspectorate, which reported directly to the Minister of the Irish Department of Justice and Equality, Debra recommended improvements within An Garda Siochana, the national police force of Ireland.  Her contributions included critical areas such as crime investigation, organizational reform and child sexual abuse investigation practices.
Debra served 28 years with the Chicago Police Department, retiring as Chief, Bureau of Organizational Development, with responsibility for policy, training and special projects. This included serving as the law enforcement lead for the NATO 2012 Summit, a National Special Security Event. Debra's career accomplishments included policy and training that resulted in integration of community policing practices with the investigative function and a whole-community response to domestic violence.  She has served in a command role in organized crime and internal affairs units, with an acute focus on integrity systems, covert operations and strong accountability practices. During her career, she was developed curriculum and delivered training on a range of public safety issues locally and nationally.
Debra served as General Counsel to the first outside Superintendent appointed to the CPD in over 40 years. In this role, she led reform on prisoner treatment, LGBTQ policies and officer-involved shooting investigations. Partnering with the independent oversight agency investigating CPD's use of force, she helped develop CPD's response protocol for officer-involved shootings and establish a review committee for the findings arising from officer involved shootings, including training, definition of shared responsibilities and drafting and updating related policies.
A licensed attorney in the State of Illinois, Debra has a Master's Degree in Homeland Security, awarded by the Naval Postgraduate School and an undergraduate degree from University of Illinois at Urbana in Finance. She is a graduate of the FBI National Academy and was a Fulbright Scholar for police studies.