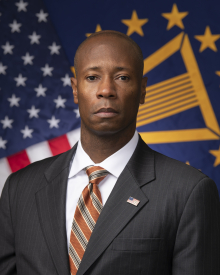 Assistant Director
U.S. Secret Service Office of Training
Miltom Wilson serves as the Assistant Director of the U.S. Secret Service Office of Training.  Mr. Wilson is a senior executive and federal law enforcement professional who progressed through the ranks, having begun his career in 1995 as a Special Agent assigned to the Miami Field Office.
As Assistant Director, Mr. Wilson directs, coordinates, and implements the U.S. Secret Service's strategy for developing a highly trained workforce capable of achieving mission success.  He oversees the execution of the division's training budget and plans for the future allocation of human and financial resources required to keep training aligned with hiring goals.
Prior to his appointment to Assistant Director, Mr. Wilson served as the Deputy Assistant Director of the Office of Training, where he was responsible for enhancing training's business model in an effort to better develop and train newly hired and existing Special Agent, Uniformed Division, and Technical Law Enforcement personnel.
Previously, Mr. Wilson served as the Deputy Assistant Director in the Office of Protective Operations, where he had direct oversight of all Former President protective details, the Dignitary Protective Division, the Special Services Division, and the Special Operations Division.  In this role, he implemented new protective strategies, had oversight over multiple National Special Security Events, and led the implementation of a long-term strategy he developed regarding the procurement of equipment and services required to provide security at National Special Security Events and large-scale protective venues.
Mr. Wilson's initial Senior Executive Service assignment occurred upon his appointment to Special Agent in Charge of the Technical Security Division where he led a team of engineers, administrative personnel, Physical Security Specialists, Special Agents, and Technical Security Investigators in providing technical support for investigative and protective missions.  He also directed the development and implementation of physical security technologies at all facilities protected by the U.S. Secret Service.    
Mr. Wilson held additional leadership positions in the U.S. Secret Service, served as a Collateral Ombudsman where he assisted employees with resolving issues, and also served as a Senior Executive Service mentor.
Mr. Wilson earned a Bachelor of Criminal Justice and a Master of Applied Social Science from Florida A&M University.  He also completed the American University Key Executive Leadership Certificate Program.