For Immediate Release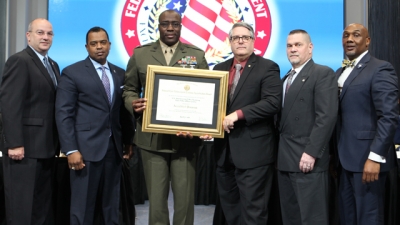 The Federal Law Enforcement Training Accreditation (FLETA) Board is pleased to announce it granted reaccreditation status to the U. S. Marine Corps Police Academy (USMCPA) Basic Police Officer Course (BPOC) at the April 19, 2018 meeting in Glynco, GA.
The BPOC was develop to provide training in support of the Marine Corps Civilian Law Enforcement Program. The BPOC is designed to create the competencies needed for the student to perform Marine Corps installation law enforcement duties. The program focuses on 13 functional areas of basic law enforcement training. The BPOC is 62 training days or 492 hours in length and it includes: classroom instructions, laboratories, graded practical exercises, written examinations, performance examinations, physical fitness training, homework, and a final law enforcement exercise.
The FLETA Board is the accrediting body for all federal law enforcement training and support programs. To achieve accreditation, agencies submit to an independent review of their academy and/or program to ensure compliance with the FLETA Standards and Procedures in the areas of Program Administration, Training Staff, Training Development, Training Delivery, and Distance Learning. Accreditation is a cyclical process occurring every five years. Each year, agencies must submit annual reports in preparation for reaccreditation, which is a new and independent review of the academy/program.