For Immediate Release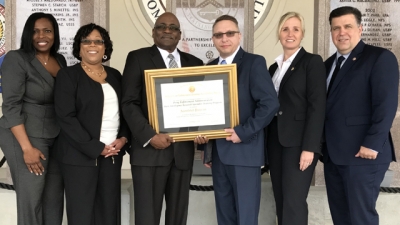 The Federal Law Enforcement Training Accreditation (FLETA) Board is pleased to announce it granted accreditation status to the Drug Enforcement Administration (DEA) Basic Intelligence Research Specialist (BIRS) Training Program at the November 8, 2018 meeting in Glynco, GA.
The BIRS Training Program is a 10-week entry-level classroom-based program provided to newly hired Intelligence Research Specialists (IRS) as they begin complex and demanding careers in intelligence analysis. The course offers intensive training and development of the analytical skills necessary to support DEA drug investigations and programs. The BIRS course prepares the IRSs for a broad range of domestic and foreign assignments and is designed to enhance individual abilities to formulate and present analytical recommendations to investigators, prosecutors, policy makers, and other agencies. The BIRS is 46 instructional days and consists of 370 hours of instruction. The average number of students per iteration of the program is approximately 25 students.
The FLETA Board is the accrediting body for all federal law enforcement training and support programs. To achieve accreditation, agencies submit to an independent review of their academy and/or program to ensure compliance with the FLETA Standards and Procedures in the areas of Program Administration, Training Staff, Training Development, Training Delivery, and Distance Learning. Accreditation is a cyclical process occurring every five years. Each year, agencies must submit annual reports in preparation for reaccreditation, which is a new and independent review of the academy/program.