For Immediate Release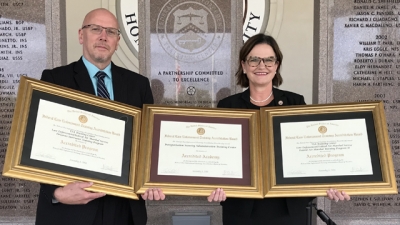 The Federal Law Enforcement Training Accreditation (FLETA) Board is pleased to announce it granted reaccreditation status to the Transportation Security Administration Training Center (TSATC) and to the TSATC Law Enforcement/Federal Air Marshal Service, Firearms Instructor Training Program (FITP) and Federal Air Marshal Training Program-II (FAMTP-II) at the November 8, 2018 meeting in Glynco, GA.
The purpose of the TSATC is to promote and maintain standards of excellence for training in the Transportation Security Administration and to ensure those trained have the highest level of proficiency in the core competencies required for their respective positions. The mission of the TSATC is to provide effective learning environments and opportunities, utilizing current and relevant curricula and training methodologies, to enable and challenge Federal Air Marshals, and other designated transportation security professionals, to perform their duties and responsibilities in a highly effective manner.
The purpose of the TSATC Law Enforcement/Federal Air Marshal Service FITP is to develop qualified instructors, who possess the knowledge, skills, and abilities, to identify common shooter deficiencies and prescribe remediation techniques to assist the shooter in correcting these deficiencies. The FITP is 10 instructional days and consists of 80-hours of instruction. The average number of students per iteration of the program is 12.
The purpose of the TSATC Law Enforcement/Federal Air Marshal Service FAMTP-II is to develop the basic law enforcement training Federal Air Marshal (FAM) Candidates (F/C) after completing Federal Air Marshal Training Program-I (FAMTP-I), in an agency specific setting. FAMTP-II provides F/Cs training specific to transportation security, particularly the aviation domain, adapting physical skills such as firearms and defensive measures for safe application within the domain. The program is delivered in a variety of settings ranging from classroom to firing ranges to mat rooms and aircraft simulators. The FAMTP-II is 43 instructional days and consists of 344 hours of instruction.
The FLETA Board is the accrediting body for all federal law enforcement training and support programs. To achieve accreditation, agencies submit to an independent review of their academy and/or program to ensure compliance with the FLETA Standards and Procedures in the areas of Program Administration, Training Staff, Training Development, Training Delivery, and Distance Learning. Accreditation is a cyclical process occurring every five years. Each year, agencies must submit annual reports in preparation for reaccreditation, which is a new and independent review of the academy/program.