For Immediate Release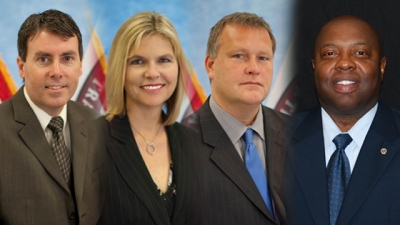 Today, the Federal Law Enforcement Training Accreditation (FLETA) Board Executive Committee began their 2014-2016 term. The FLETA Board Executive Committee provides operational guidance and oversight for the FLETA Board activities. The FLETA Board is comprised of 21 senior executives and representatives from the federal government, academia, and other non-federal organizations as members of the FLETA Board.
The 2014-2016 FLETA Board Executive Committee members include:
Chair: Brian Peters; Chief of the Department of Interior National Law Enforcement Training Office
1st Vice-Chair: Angela Hrdlicka; Executive Director of the Inspector General Criminal Investigator Academy (IGCIA)
2nd Vice-Chair (Interim): William Fallon; Assistant Director of the U.S. Marshals Service Training Division
Parliamentarian: James Ward, Esquire; Director of the Department of Veterans Affairs Law Enforcement Training Center
"I want to thank our new Executive Committee for volunteering to serve in these important positions," stated outgoing FLETA Board Chair, Ronald Ward, Director, U.S. Probation and Pretrial Services National Training Academy. "It is an exciting time to be part of the FLETA process and the Executive Committee is critical to help keep the Board moving forward. I thank you and wish you the best as you lead FLETA into the next decade of excellence."
The FLETA Board is the accrediting body for all federal law enforcement training and support programs. To achieve accreditation, agencies submit to an independent review of their academy and/or program to ensure compliance with the FLETA Standards and Procedures in the areas of: Program Administration, Training Staff, Training Development, and Training Delivery, with an additional 20 standards for Academies. Accreditation is a cyclical process occurring every five years. Each year, agencies must submit annual reports in preparation for reaccreditation, which is a new and independent review of the academy/program.