For Immediate Release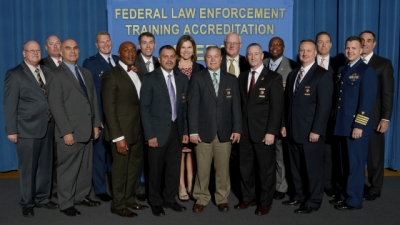 The Federal Law Enforcement Training Accreditation (FLETA) Board awarded accreditation to five programs and three academies during the biannual business meeting at the Federal Bureau of Investigation Academy in Quantico, VA, April 14-16, 2015.
On Tuesday, the FLETA Board met in executive session to review recommendations by the Standards Steering Committee and standards workgroups. The FLETA Board voted and approved changes regarding standards, processes, and glossary terms that will be published in the 2015 FLETA Standards and Procedures Manual. During the meeting, the Board reviewed and approved policy and guidance to transition agencies to the revised standards. The Board also conducted committee meetings on bylaws, Board membership, budget, awareness and recognition, and return on expectations. 
On Wednesday, the Board reviewed two programs and two academies for initial accreditation, and three programs and two academies for reaccreditation. Following the Board Review Committees, the FLETA Board met in executive session to discuss the reviews and make a determination of accreditation. In addition, FLETA Board Chairperson Mr. Brian Peters met with the FLETA community to provide an overview of the new standards and the transition to the new standards once they are published. Mr. Peters also answered questions regarding processes.
On Thursday, the FLETA Board conducted a public meeting attended by members of the FLETA community. During the meeting, the FLETA Board awarded the FLETA Agency Leadership Recognition Award to U.S. Coast Guard Captain Thomas Walsh. The FLETA Board finalized business, provided and accepted reports from the committees that met on Tuesday, and accepted the report from the Federal Law Enforcement Accreditation Coalition. The FLETA Board meeting concluded with the awarding of accreditation to these programs and academies reviewed during the Board Review Committees:
Initial Accreditation
Federal Bureau of Investigation – Hazardous Material Crime Scene Operations Course
Federal Bureau of Investigation – Hazardous Materials Operations Course
U.S. Marshals Service – Training Division
Reaccreditation
Department of Veterans Affairs – Law Enforcement Training Center
Federal Law Enforcement Training Centers – Uniformed Police Training Program
Treasury Inspector General for Tax Administration – Academy
U.S. Customs and Border Protection – Air and Marine Basic Training Program
U.S. Customs and Border Protection – Officer Basic Training
The FLETA Board is the accrediting body for all federal law enforcement training and support programs. To achieve accreditation, agencies submit to an independent review of their academy and/or program to ensure compliance with the FLETA Standards and Procedures in the areas of: Program Administration, Training Staff, Training Development, and Training Delivery, with an additional 20 standards for Academies. Accreditation is a cyclical process occurring every five years. Each year, agencies must submit annual reports in preparation for reaccreditation, which is a new and independent review of the academy/program.