For Immediate Release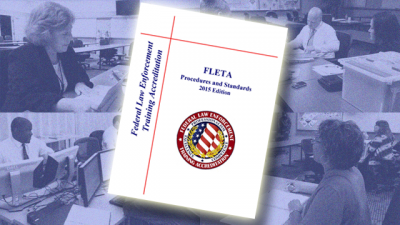 Today, the Federal Law Enforcement Training Accreditation (FLETA) Board released the FLETA Procedures and Standards Manual 2015 Edition. In addition, the Board has provided a transition policy and a standards crosswalk (all attached) to assist agencies currently in the FLETA process. The new Procedures and Standards Manual, transition policy and the standards crosswalk are available on the FLETA.gov website and the FLETA HSIN site.
"On behalf of the FLETA Board, I want to thank everyone who assisted with the comprehensive review," stated FLETA Board Chair Brian Peters. "We are very pleased because this manual includes the first distance learning standards for FLETA. We could not have accomplished this without the hard work of the Board and the community who worked tirelessly for nearly 18 months to improve our processes and FLETA standards."
Some of the more noticeable changes include:
The manual has a new name, FLETA Procedures and Standards Manual 2015 Edition. This change reflects the restructuring of the manual.
The manual has been reorganized beginning with procedures, followed by the glossary, and concluding with the Program and Academy Standards.
The manual now includes procedures and standards for distance learning/ blended learning training.
The Academy Standards are a separate, stand-alone unit.
Some of the procedural changes include:
Applications will require the agency to delineate if the program is a traditional on-site or distance/blended learning program.
If a significant portion of the training program is controlled by another agency, then both agencies must sign the application for accreditation, proofs of compliance must be included from both agencies, and both agencies must be present when the program is presented to the Board Review Committee.
Applications for reaccreditation are due 30 days following the awarding of accreditation.
The FLETA Office of Accreditation is available to answer any questions regarding the FLETA Procedures and Standards Manual 2015 Edition.