For Immediate Release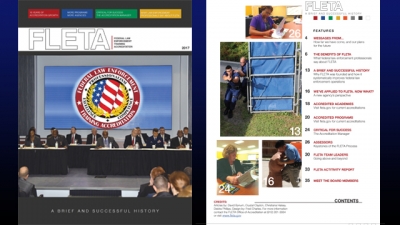 We are proud to announce that the 2017 FLETA Magazine and Report is available online and in hardcopy. You can download an electronic copy from FLETA.gov or the Resources tab in the FLETA HSIN site.
The Office of Accreditation has hardcopies available in Townhouse 383, at the FLETC, Glynco. Please stop by and pick up a copy or two. We will also have hardcopies available at our training offerings, agency site visits, IACP, and during the FLETA Board Meeting in November.
A special thank you to our writers for assisting with content development, and to everyone in the community who provided feedback, testimonials, and photos. In addition, a big thank you to those behind the scenes that also worked hard to get this magazine published.