For Immediate Release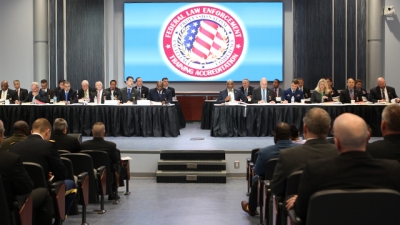 The Federal Law Enforcement Training Accreditation (FLETA) Board awarded accreditation to 13 programs and one academy during the biannual business meeting at the Federal Law Enforcement Training Centers in Glynco, GA from April 16-19, 2018.
On Monday afternoon, the FLETA Board met in executive session to discuss FLETA business. In addition, members of the OA staff delivered FLETA fundamentals training to the Board members.
On Tuesday, the FLETA Board met in executive session to discuss the FLETA budget, review operational requirements, and discuss future business. In addition, the OA delivered the FLETA Standards Analysis block of instruction to members of the FLETA community. The OA also provided refresher training on assessment report writing requirements.
On Wednesday, the Board reviewed four programs and one academy for initial accreditation, and nine programs for reaccreditation. Following the Board Review Committees, the FLETA Board met in executive session to discuss the reviews and make a determination of accreditation. Members of the FLETA community met and conducted training on scheduling and performing mock BRCs.
On Thursday, the FLETA Board conducted a public meeting attended by over 100 members of the FLETA community. The FLETA Board meeting awarded accreditation to the below programs and academies:
Initial Accreditation
NASA – Protective Services Training Academy
FMCSA – General Hazardous Materials
TSA - Close Quarter Control Tactics Instructor Training Program
TVA – Police Annual In-Service Training Program
USAMPS – Basic Officer Leaders Course
Reaccreditation
FLETC – Criminal Investigator Training Program
FLETC – Law Enforcement Fitness Coordinator Training Program
NBIB – Essentials of Suitability Adjudications Program
NBIB – Federal Background Investigator Training Program
USAMPS – Special Victims Capability Course
USAMPS – Staff & Faculty Training Course
USMC – Basic Police Officer Course
VA – Police Officer Standardized Training
VA – Instructor Development Course
The FLETA Board is the accrediting body for all federal law enforcement training and support programs. To achieve accreditation, agencies submit to an independent review of their academy and/or program to ensure compliance with the FLETA Standards and Procedures in the areas of: Administration, Training Staff, Training Development, Training Delivery, and Distance Learning. Accreditation is a cyclical process occurring every five years. Each year, agencies must submit annual reports in preparation for reaccreditation, which is a new and independent review of the academy/program.