For Immediate Release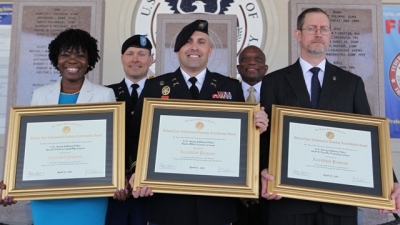 The Federal Law Enforcement Training Accreditation (FLETA) Board is pleased to announce it granted accreditation status to the U. S. Army Military Police School (USAMPS) Basic Officer Leaders Course (BOLC) and reaccreditation status to the Special Victims Capability Course (SVCC) and the Staff and Faculty Training Course (SFTC) at the April 19, 2018 meeting in Glynco, GA.
The BOLC program is an advanced course to take college graduates from U. S. Military Academy, Reserve Officer Training Command or the Officer Candidate School and train and educate them for critical assignments as Military Police leaders. The BOLC student load is 44 students, over seventeen weeks and one day of instruction or 698.8 hours of instruction, using an instructor to student ratio of 1 – 11. Approximately 130 students have been through this program. Students get class room lecture, scenario-based practical exercises, firearms, driver skills training, leadership, mentorship and a host of other topics. Students are evaluated using practical exercises, practical examinations, and written examinations.
The SVCC provide training and education to the Department of Defense, Department of Homeland Security, and the Department of Justice criminal investigators, special agents and attorneys. The SVCC focuses on the conduct of sensitive victim interviews, understanding common victim responses, understanding sex offenders, interviews of sexual assault perpetrators, ethanol facilitated sexual assaults, false reports, sexual assault legal aspects, sexual assault investigations case reviews, male victimization, collection of evidence, and intimate partner sexual assaults.
The SFTC is an instructor development course to further develop the skillset and knowledge base of USAMPS instructors and personnel over two days of classroom instruction. Varying number of students per iteration are instructed in various subjects including the ADDIE process and test development. Students are evaluated through one written test.
The FLETA Board is the accrediting body for all federal law enforcement training and support programs. To achieve accreditation, agencies submit to an independent review of their academy and/or program to ensure compliance with the FLETA Standards and Procedures in the areas of Program Administration, Training Staff, Training Development, Training Delivery, and Distance Learning. Accreditation is a cyclical process occurring every five years. Each year, agencies must submit annual reports in preparation for reaccreditation, which is a new and independent review of the academy/program.