For Immediate Release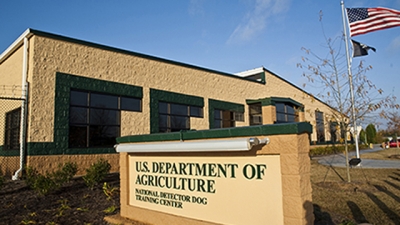 The Federal Law Enforcement Training Accreditation (FLETA) Board concluded the 300th FLETA assessment at the U.S. Department of Agriculture's National Detector Dog Training Center in Newnan, GA.  The three-day assessment included a comprehensive on-site review of the Agriculture Detector Dog Handler Training - Airport Passenger Clearance including all policies and evidence to demonstrate continued compliance with the FLETA Standards. The team included a team leader and two assessors.
The FLETA assessment team is typically comprised of:
a qualified team leader who is an experienced assessor, has met all the pre-requisites, completed team leader training, and successfully completed a monitored assignment as a team leader;
two qualified assessors who have completed all training and on-the-job training requirements; and,
up to two assessors completing the on-the-job portion of the assessor qualification process.
Agencies voluntarily submit to the FLETA process for each program or academy seeking accreditation/reaccreditation. FLETA is a cyclical process that includes: comparing agency processes against the FLETA Standards; identifying and making improvements; submitting to an assessment by a team of qualified FLETA assessors; submitting to a secondary review by a FLETA Board Review Committee; and a final review by the full FLETA Board for a determination of accreditation. If the FLETA process identifies deficiencies, the agency is required to develop a corrective action plan that the FLETA Board monitors for completion to ensure compliance with the standards.
Once a program or academy is awarded FLETA accreditation, the agency submits yearly reports to the FLETA Board and begins the process over in preparation for reaccreditation. Reaccreditation occurs every five years and is a fresh and independent review of the academy or program to ensure continued compliance with the FLETA Standards.
A full listing of FLETA accredited programs is available by visiting the FLETA website. The Office of Management and Budget directed the establishment of FLETA as the accrediting body for all federal law enforcement training. More information on the FLETA process and benefits is available at www.FLETA.gov, or by calling the FLETA Office of Accreditation (912) 261-3684.