For Immediate Release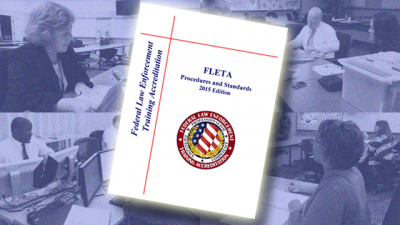 DEADLINES EXTENDED: On behalf of the FLETA Board, the Office of Accreditation is soliciting your input for the five-year comprehensive review of the FLETA Procedures and Standards. During the review, the Board is seeking input regarding any potential revisions, additions, and deletions to the standards and glossary.
Your chance to be heard is important and will shape the future of federal law enforcement training accreditation by sharing your thoughts and potentially significant edits in a collaborative manner. We want to hear from everyone to ensure that the 2020 Procedures and Standards represent all members of the FLETA community, regardless of agency size, resources, and structure. 
Copies of the survey results will be provided to the Board representatives for each sub-committee, who will use the results with their respective workgroups. If you choose to participate in this project, please answer all questions as honestly as possible. All feedback must be submitted prior to March 1, 2019. If you recently submitted a Standards Revision Form, the OA will input your suggestions in the appropriate survey.
Below are the links to the surveys (each survey should take approximately 10 minutes to complete). We recommend having your comments prepared ahead of time so you may copy and paste (using Ctrl + V) into the survey.
SUBCOMMITTEE VOLUNTEERS
Additionally, the Board is looking for volunteers for each of the sub-committees. To volunteer, please contact Jennifer Kasper, FLETA Program Manager, at (912) 280-5397 or Jennifer.Kasper@fletc.dhs.gov. The OA will select volunteers to support the sub-committees to ensure that there is a balanced cross-section of agencies that is representative of the diversity of the FLETA community. If you are not selected to directly serve on a sub-committee, you are still encouraged to provide your input to the sub-committee, as it will be crucial for a successful and complete review. Let Jennifer know if you have a sub-committee preference. Volunteer submissions must be received by March 1, 2019. Once the sub-committees are determined, Jennifer will notify the members.
Sub-committees will be able to meet in-person or remotely using teleconferencing or adobe connect, so everyone interested is encouraged to volunteer for a sub-committee. There are six sub-committees:
Section 1 Program/Academy Administration
Section 2 Program/Academy Training Staff
Section 3 Program/Academy Training Development
Section 4 Program/Academy Training Delivery
Section 5 Program/Academy Distance Learning
Procedures and Glossary