For Immediate Release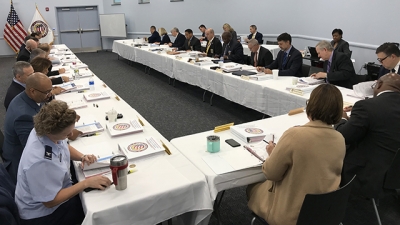 Members of the FLETA Community,
On behalf of the FLETA Board Chair, Dr. James Ward, and myself:
After careful consideration with the FLETA Board Executive Committee, the April 2019 FLETA Board Meeting scheduled for April 23 - 25, 2019 will be canceled. Unfortunately, the recent 35-day government shutdown adversely impacted the ability of the Office of Accreditation (OA) to properly prepare and conduct the April 2019 FLETA Board Meeting.
Pushing all business from April 2019 to November 2019 will create a robust meeting. This would be a better use of the FLETA resources to conduct a larger meeting in November, rather than a scaled down April meeting. Also, the lost government shutdown time had an impact on the ability to get the April meeting approved.
All programs and academies that were scheduled for the Board Review Committees (BRC) in April will be heard at the November 2019 Board Meeting, along with those previously scheduled for November.
All agencies that were up for reaccreditation in April 2019 for their academy or program will retain their accredited status up until the November 2019 FLETA Board Meeting.
We will keep an eye on the news for the next two weeks, as funding for the OA is connected to the current Continuing Resolution, which is set to expire on February 15, 2019. Once there is some certainty to our fiscal situation, we will continue with FLETA assessments and preparations for November. In addition, the Standards Steering sub-committees will begin work on the 2020 Standards Review, so we will be utilizing our time between now and November to accomplish a great deal. 
Please pass this information along to your agency personnel.
If there are any questions, please let me know.
Thank you for your continued support of FLETA.
Respectfully,
Joe Collins