For Immediate Release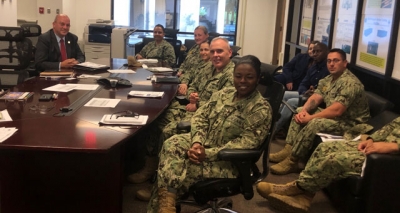 FLETA Office of Accreditation Executive Director Joseph Collins and Program Manager Jennifer Kasper traveled to San Antonio, TX, April 22-24, 2019. Mr. Collins and Mrs. Kasper visited the Lackland Air Force base and met with three different organizations: Air Force Security Forces, Navy, and Transportation Security Administration's Canine Training Center. For many attendees, this was the first opportunity to meet with FLETA and learn about the process.
For the Air Force Security Forces, the visit allowed new command personnel to discuss the FLETA process and the current accredited programs: Security Forces Apprentice Course and the Security Forces Officer Course. In addition, the staff explained how the FLETA process has helped Security Forces personnel transition into civilian law enforcement careers.
The visit wrapped up with Mrs. Kasper delivering a 1.5 day FLETA Fundamentals to the TSA Canine personnel. The program included an overview, standards analysis, and blocks on accreditation management and file building.
Click Here for more information on the FLETA process and how to apply.