For Immediate Release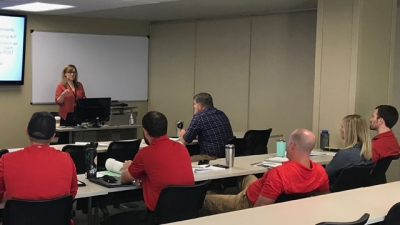 FLETA Office of Accreditation Program Managers Jennifer Kasper and JJ Hensley delivered a one-day FLETA Fundamentals to training staff from three federal agencies in Charleston, SC on July 31, 2019. Participants included staff from the U.S. Courts Federal Probation and Pretrial Academy, U.S. Coast Guard Maritime Law Enforcement Academy, and the Federal Law Enforcement Training Centers. The program included an overview of the FLETA process, a standard-by-standard discussion, and an overview of the FLETA assessment process.
In addition to delivering training, Ms. Kasper and Mr. Hensley met with members of the U.S. Coast Guard's and U.S. Courts' accreditation staff. During these one-on-one meetings, Ms. Kasper and Mr. Hensley answered agency-specific questions and reviewed policy and evidence.
FLETA Fundamentals is typically a one-day workshop for delivery to agency personnel as they prepare and support the agency's accreditation efforts, but may be modified to include: building files, managing annual reports, completing a corrective action plan, and assessing files. The Fundamentals may be delivered in-person or online. Online sessions may be recorded and provided securely to the agency for delivering in-house training.
Click Here for more information on topics that may be included in a Fundamentals. Contact the FLETA Office of Accreditation today to schedule a Fundamentals for your agency.