For Immediate Release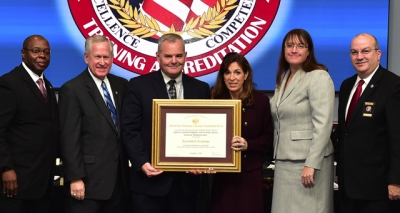 The Federal Law Enforcement Training Accreditation (FLETA) Board is pleased to announce it granted reaccreditation status to the Defense Counterintelligence and Security Agency (DCSA) National Training Center (NTC) at the November 7, 2019 meeting in Glynco, GA.
The Defense Counterintelligence and Security Agency (DCSA) is an agency of the Department of Defense (DoD) located in Quantico, Virginia with field offices throughout the United States. The Under Secretary of Defense for Intelligence provides authority, direction and control over DCSA. DCSA provides the military services, Defense Agencies, 33 federal agencies and approximately 13,500 cleared contractor facilities with security support services.
DCSA contributes to national security by serving as an interface between the government and cleared industry. DCSA administers and implements the defense portion of the National Industrial Security Program pursuant to Executive Order 12829. DCSA Industrial Security personnel provide oversight and assistance to cleared contractor facilities and assist management and Facility Security Officers in ensuring the protection of U.S. and foreign classified information.
The National Training Center is located in Slippery Rock, PA and provides background investigations training to DCSA Special Agents and Quality Reviewers.
The FLETA Board is the accrediting body for all federal law enforcement training and support programs. To achieve accreditation, agencies submit to an independent review of their academy and/or program to ensure compliance with the FLETA Standards and Procedures in the areas of Program Administration, Training Staff, Training Development, Training Delivery, and Distance Learning. Accreditation is a cyclical process occurring every five years. Each year, agencies must submit annual reports in preparation for reaccreditation, which is a new and independent review of the academy/program.