For Immediate Release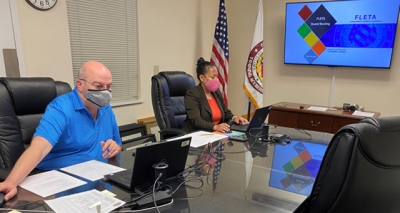 FLETA Board Business Meeting April 13–15, 2021
The Federal Law Enforcement Training Accreditation (FLETA) Board awarded accreditation to 15 programs and two academies during the biannual business meeting from April 13-15, 2021.
From April 5-7, 2021, the Board met virtually to review 5 programs for initial accreditation, and 10 programs and two academies for reaccreditation. The Board used a conference bridge for all interactions with presentations being viewed through Microsoft Teams or Adobe Connect. The FLETA community was able to log on to either platform to observe the reviews.
On Tuesday, April 13, 2021, the FLETA Board met virtually in executive session to discuss the FLETA budget, operational requirements, and future business. In addition, the Office of Accreditation presented the number of assessors and agency personnel trained, corrective action plans implemented, active applications, and the status of annual reports received during FY 2021. Also, in anticipation to the Board meeting, on March 29 and March 31, 2021, the Bylaws and Awareness and Recognition committees, respectively, met to conduct appropriate business related to those committees.
On Wednesday, April 14, 2021, the FLETA Board met virtually in executive session to discuss the BRCs, conducted the week of April 5-7, 2021, to make a determination of accreditation.
On Thursday, April 15, 2021, the FLETA Board conducted a virtual meeting attended by over 100 members of the FLETA community. The FLETA Board awarded accreditation to the below programs and academies:
Initial Accreditation
ATF – National Canine Division, Explosives Detection Canine (EDC) Program

ATF – National Canine Division, Search Enhanced Evidence K-9 (SEEK) Program

BOR – Security Response Force Basic Training Program

CBP – Air and Marine Operations Academy, Air and Marine Basic Training Program

CBP – Air and Marine Operations, Initial Tactical Boarding Officer
Reaccreditation
AFSF – Security Forces Apprentice Course

AFSF – Security Forces Officer Course

FLETC – Academy

FLETC – Instructional Systems Design Training Program (ISDTP)

FLETC – Marine Law Enforcement Training Program (MLETP)

TSA FAMS – Mission Training Instructor Training Program

USCG – Maritime Enforcement Specialist "A" School

USMS – Training Division

USPIS – Basic Inspector Training

USPIS – Postal Police Officer Basic Training

USSS – Uniformed Division Training Course

VA – LETC Department of the Air Force Civilian Police Academy
The FLETA Board is the accrediting body for all federal law enforcement training and support programs. To achieve accreditation, agencies submit to an independent review of their academy and/or program to ensure compliance with the FLETA standards and procedures in the areas of Administration, Training Staff, Training Development, and Training Delivery. Accreditation is a cyclical process occurring every five years. Each year, agencies must submit annual reports in preparation for reaccreditation, which is a new and independent review of the academy/program.