For Immediate Release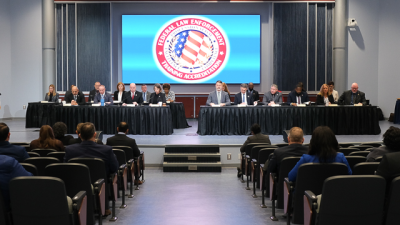 FLETA Board Business Meeting November 14-16, 2023
The Federal Law Enforcement Training Accreditation (FLETA) Board awarded accreditation to 12 programs and one academy during the biannual business meeting from November 14-16, 2023.
On Tuesday, November 14, 2023, the FLETA Board met in executive session to discuss the FLETA budget, operational requirements, and future business. In addition, the Office of Accreditation presented the number of assessors and agency personnel trained, corrective action plans implemented, active applications, and the status of annual reports received.
Also on Tuesday, the Federal Law Enforcement Accreditation Coalition (FLEAC) conducted training on areas such as: training evaluation, reviewing FLEAC materials and discussion forums on the FLETA ATMS, and other items of interest. In addition, there was a Q&A session to discuss preparing for the FLETA Board and preparing for an assessment.
On Wednesday, November 15, 2023, the Board Review Committees (BRCs) met to review 12 programs and one academy for reaccreditation. In the afternoon, the FLETA Board met in executive session to discuss the BRCs, to determine accreditation.
Also on Wednesday, the FLEAC met to conduct its business meeting and hear reports from internal committees.
On Thursday, November 16, 2023, over 100 members of the FLETA community attended the FLETA Awards Ceremony. The FLETA Board awarded accreditation to the below programs and academy:
Reaccreditation
CBP AMO – Survival Tactics Aviation Recurrent

CBP AMO – Survival Tactics Aviation Recurrent Non-6c

DEA – Basic Intelligence Research Specialist Training Program

USC – Initial Probation and Pretrial Training Program

FRB – Federal Reserve Basic Law Enforcement Course

HSI – Criminal Analyst Training (HSICAT)

IGCIA – Inspector General Investigator Training Program (IGITP)

TSATC – Federal Air Marshal Training Program – II

USCG – Maritime Law Enforcement Facilitator Course

USSS ERT – Tactical Canine Course

USSS – Explosive Detection Canine Course

USDA – Agriculture Detector Dog Handler Training Border/Cargo/Parcel

NCIS – Training Academy
The FLETA Board is the accrediting body for all federal law enforcement training and support programs. To achieve accreditation, training organizations submit to an independent review of their program and/or academy to ensure compliance with the FLETA Standards and Procedures in the areas of Administration, Training Staff, Training Development, and Training Delivery. Accreditation is a cyclical process occurring every five years. Each year, training organizations must submit annual reports in preparation for reaccreditation, which is a new and independent review of the program/academy.