For Immediate Release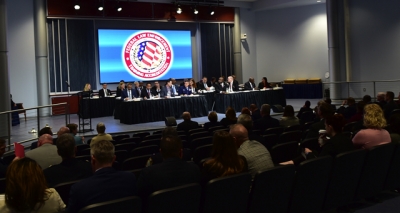 The Federal Law Enforcement Training Accreditation (FLETA) Board awarded accreditation to 15 programs and three academies during the biannual business meeting at the Federal Law Enforcement Training Centers in Glynco, GA from November 5-7, 2019.
On Tuesday, the FLETA Board met in executive session to discuss the FLETA budget, the FLETA Bylaws and Board composition, operational requirements, and discuss future business. In addition, the Standards Steering Committee presented the results and recommendations from the 2020 comprehensive standards and procedures review. Finally, the Office of Accreditation presented the number of assessors and agency personnel trained, corrective action plans implemented, active applications, and the status of annual reports received during Fiscal Year 2019.
On Tuesday, members of the FLETA community attended a day of training, which included: a discussion focusing on self-awareness and emotional intelligence in government leadership; review of a recently developed program to increase awareness and understanding of how unconscious bias can impact the learning environment and student-instructor interactions and provide useful tools for managing unconscious bias; a round-table with seasoned TLs and AMs to discuss best practices and common pitfalls seen during assessments; an open Q&A session with TLs and AMs; and finally a Meet the Board Q&A session.
On Wednesday, the Board reviewed four programs for initial accreditation, and 11 programs and three academies for reaccreditation. Following the Board Review Committees, the FLETA Board met in executive session to discuss the reviews and make a determination of accreditation.
On Thursday, the FLETA Board conducted a public meeting attended by over 100 members of the FLETA community. The FLETA Board meeting awarded accreditation to the below programs and academies:
Initial Accreditation
ATF – Special Agent Basic Training
ATF – Industry Operations Investigator Basic Training
TSATC/FAMS – Advanced Resolution Conversation
USAMPS – Military Working Dog Handler, Phase I
Reaccreditation
BEP – Police Basic Training Program (PBTP)
DCSA – National Training Center
DEA – Basic Agent Training Program
DEA – Instructor Development Course
DEA – Office of Training
DHS – Intelligence Training Academy, Intelligence Analysis Basic Course
FLETC – Firearms Instructor Training Program
FLETC – Land Management Police Training Program
ICE – Instructor Development Course (IDC)
ICE – Supervisory Leadership Training (SLT)
NCIS – Special Agent Basic Training Program
TIGTA – Special Agent Basic Training Program
USAMPS – Military Police One Station Unit Training
USCG – Maritime Law Enforcement Academy
The FLETA Board is the accrediting body for all federal law enforcement training and support programs. To achieve accreditation, agencies submit to an independent review of their academy and/or program to ensure compliance with the FLETA Standards and Procedures in the areas of Administration, Training Staff, Training Development, Training Delivery, and Distance Learning. Accreditation is a cyclical process occurring every five years. Each year, agencies must submit annual reports in preparation for reaccreditation, which is a new and independent review of the academy/program.