For Immediate Release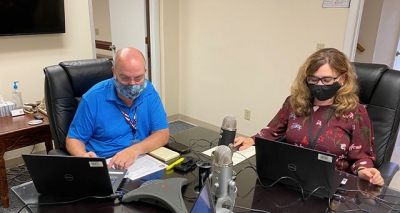 The FLETA Board conducted a test of the technologies that will be used in support of the upcoming FLETA Board Meeting. Twenty members of the FLETA Board and all seven members of the FLETA Office of Accreditation (OA) took part in the test. The test required all participants to call into a conference line where all discussions took place, and each signed into Microsoft Teams or Adobe Connect to view the presentations.
Today's meeting allowed the FLETA OA to test the plan for conducting reviews of programs and academies for accreditation, performing the Board's business, and the delivery of the Board Meeting to the entire community.
The Board Review Committees (BRC) and Board Meeting will be completely virtual. The BRCs will take place October 26 – 29, 2020. The Board will run one BRC a day for those four days. The OA will distribute the schedule with specific details about signing in, etc. to the Board, Team Leaders, and Accreditation Managers (AM). Accreditation Managers: Please forward this email to anyone who will be presenting and/or part of the Q & A session during the assigned BRC date/time(s).
All audio interactions for the BRCs will be conducted via a conference line. Any visual agency presentations (ex: PowerPoints or Screen Shares) will be handled through Adobe Connect or Microsoft Teams. Members of the FLETA community not presenting may listen and see the presentations through Adobe Connect or Microsoft Teams, or may use the conference line for audio, if needed.
Unlike past meetings, the first two days of the formal Board meeting will not include any community involvement. We will not have training that week or other activities, beyond the Board conducting their business on November 3 and 4. The only other community participation will be the actual Board Meeting itself on the morning of November 5 (9:00 a.m. to 11:00 a.m. EST - estimate).
The FLETA Board is the accrediting body for all federal law enforcement training and support programs. To achieve accreditation, agencies submit to an independent review of their academy and/or program to ensure compliance with the FLETA Standards and Procedures in the areas of: Administration, Training Staff, Training Development, and Training Delivery. Accreditation is a cyclical process occurring every five years. Each year, agencies must submit annual reports in preparation for reaccreditation, which is a new and independent review of the academy/program.