For Immediate Release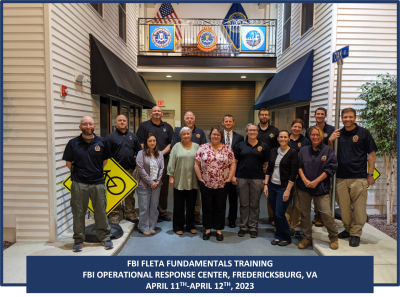 FLETA Office of Accreditation Program Manager J.J. Hensley delivered a FLETA Fundamentals workshop at the FBI's Operational Response Center (ORC) in Fredericksburg, VA on April 11-12, 2023. Attendees included representatives from the FBI's Evidence Response Team Unit, Hazardous Evidence Crime Scene Operations, Behavioral Analysis Unit, and Training Division. Sixteen participants attended the workshop which covered an orientation to the FLETA process, Standards Analysis, Gap Analysis, a demonstration on how to build accreditation files, a session on FLETA Assessments, and a lesson on Maintaining Accreditation. The two-day session was followed by a full day of policy analysis with the accreditation staff from the respective FBI training organizations in attendance.
FLETA Fundamentals workshops are delivered by the FLETA Office of Accreditation Program Managers and can be modified in content and duration to meet the needs of the host Training Organization(s). Click Here for more information on topics that may be included in a Fundamentals. Contact the FLETA Office of Accreditation today to schedule a FLETA Fundamentals.