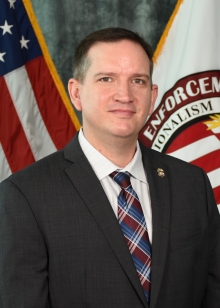 Special Agent in Charge
US Treasury Inspector General for Tax Administration (TIGTA)
Gary Smith is the Special Agent in Charge for the US Treasury Inspector General for Tax Administration (TIGTA), Southern Field Division, where he leads all investigative field operations in thirty-two Federal judicial districts covering eleven states and two US territories.     
Gary also serves as the Chairman of TIGTA's Training Council, which oversees TIGTA's accredited training academy.  The mission of the Training Council is to provide advice and counsel relative to major issues and policy decisions regarding TIGTA training, and to review TIGTA training programs, proposals, and changes to ensure consistency with TIGTA's mission.
Gary began his federal law enforcement career in 1997 with the United States Border Patrol in San Diego, California.  After the tragic events of September 11, 2001, Gary joined the Federal Air Marshal Service (FAMS) in Dallas, Texas.  Gary joined TIGTA in 2006 in New Orleans, Louisiana and served there until his promotion to Assistant Special Agent in Charge in Houston, Texas, in 2012.  In 2015, Gary was promoted to the Deputy Special Agent in Charge of TIGTA's Mid-States Field Division, where he served until his promotion to the Special Agent in Charge in 2017. 
Gary also currently serves on the Board of Advisors at the University of Texas – Center for Identity.  The Center for Identity's Board of Advisors provides guidance on all aspects of the Center's operations, including research and education programs, applications, and outreach.  Gary is an honors graduate of the University of Louisiana in Monroe with a Bachelor of Arts degree in Criminal Justice.