For Immediate Release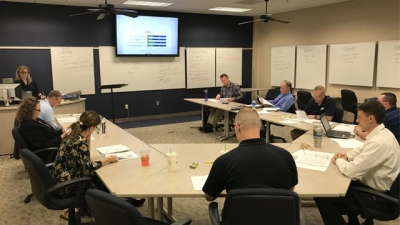 In December, the OA led a team of AMs, TLs, and Assessors in a Curriculum Review Conference (CRC) of the Assessor Training Program (ATP). The CRC attendees agreed upon some significant changes to the program. The OA Program Managers are currently in the process of making revisions to the program that include:
In the past, the ATP had morphed into more of a FLETA familiarization, with agencies sending personnel to learn about the FLETA process. The core audience for the ATP now returns to a renewed focus on those individuals who will complete FLETA assessments, and these applicants will receive priority for the program. The new application (located in the ATP site) requires endorsement by the AM and the individual's immediate supervisor. All applicants who recently sent in applications using the old application, will be required to reapply with the new application. Also, the class size for the new ATP will be limited to 12 students.
The OA is also developing a self-assessor workshop (via the FLETA HSIN) to support personnel who need to know how to review files, but who will not be on FLETA assessments.
In addition, if you find that your agency needs training for basic FLETA Fundamentals, please work with your assigned Program Manager.
The ATP now has three parts:
Pre-ATP – Delivered online via FLETA HSIN. Participants will be required to complete all Pre-ATP blocks of instruction, reading assignments, and written exams PRIOR to attending the in-person portion of the program. (Required to complete)
In-Person ATP – The three-day in-person aspects of the program will focus on the knowledge, abilities, and tasks required to complete the assessment. There is more hands-on practice with reviewing files, writing assessment comments, and performing as a team. (Required to complete
Post-ATP – After graduation from the blended ATP (Pre and In-Person), graduates will have access to exercises that they may use to further develop their skills as they await assignment as an On-the-Job (OJT) assessor. Post-ATP exercises will be available via the FLETA HSIN. (Optional development opportunities)
The OA is working to begin the Pre-ATP in August 2018 in preparation for an October in-person ATP. More information regarding specific dates will be forthcoming, as we complete the development of this new program.
The OA would like to thank those who attended the Curriculum Review Conference for the ATP. Their input was very valuable in the creation of this updated program version.
If you have any questions, please feel free to contact your assigned Program Manager.